Session One – Eighteen Hole Best Ball
Team Wes was hungry for a win.  After three long, long years of futility, the Wessers were determined to get the Cup back.  Team Knickers, hats, socks, and an official practice session all paid off quickly for the boys.  Session One of the 2016 Cupp Cup went decisively the way of Team Wes.  In fact, an unprecedented session sweep was possible.  The first five matches all went Wes's way with just Match #5 still on the course.  Dennis Bird and Ron Artigiani (ART-e-jahn) held a one up lead on the final hole (#9).  However, Cupp Cup rookie Pat O'Brien had other ideas.  His hole winning par was good enough to earn a half point and save Team Lauren from a whitewash.
Session One – Eighteen Hole Best Ball
Match #1 – J. Hughes & M. Seifert   vs.   Josh Solon & M. Ferdinand.  Solon & Ferdinand, 3&2.
Match #2 – L. Natale & JR Purrington   vs.   B. Adams & J. Gifford.  Adams & Gifford, 3&2.
Match #3 – E. Evans & M. Smith   vs.   M. Lloyd & R. Rothrock.  Lloyd & Rothrock, 4&3.
Match #4 – T. Cole & B. Krol   vs.   R. Taylor & J. Haberer.  Taylor & Haberer, 4&3.
Match #5 – K. Caldwell & P. O'Brien   vs.   D. Bird & R. Artigiani.  Halved. 
Match #6 – J. Domagal & J. Potter   vs.   R. Weis & C. Martin.  Weis & Martin, 4&2.
Session Two – Alternate Shot
Team Lauren desperately needed to turn things around if they wanted to make Sunday's singles matches more than a formality.  In short, they didn't.  The Wessers kept their collective foot on the gas as they grabbed another four points out of six in the afternoon.
Matt Ferdinand and Ron Weis put on the most dominating performance of the afternoon with their 6 & 5 victory over Evans and Domagal.  They jumped out to a quick lead and coasted to their full point.
Pat O'Brien was the bright spot again for Team Lauren as he and Larry Natale scratched out a full point with a one up win over Adams and Artigiani.  Patty O'Furniture earned one and a half of Team Lauren's two and a half total for the entire day.  A promising start for the rookie.
For the most part, however, it was Team Wes's day.  As the sun set on Rome Country Club and the Saturday of the Cupp Cup, Team Wes held a gigantic 9.5 to 2.5 lead.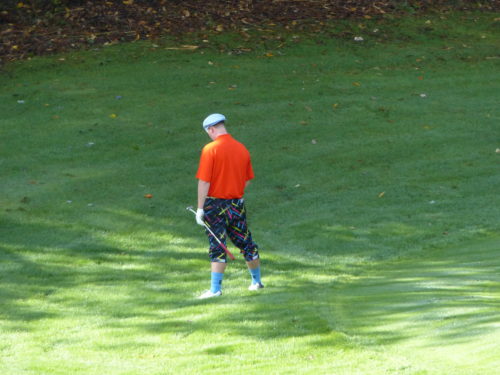 Session Two – Alternate Shot
Match #7 – J. Gifford & D. Bird   vs.   J. Hughes & T. Cole.  Gifford & Bird, 4&3.
Match #8 – M. Ferdinand & R. Weis   vs.   E. Evans & J. Domagal.  Ferdinand & Weis, 6&5.
Match #9 – M. Lloyd & C. Martin   vs.   M. Smith & K. Caldwell.  Smith & Caldwell, 3&2.
Match #10 – B. Adams & R. Artigiani   vs.   L. Natale & P. O'Brien.  Natale & O'Brien, 1 up. 
Match #11 – R. Rothrock & J. Haberer   vs.   JR Purrington & B. Krol.  Rothrock & Haberer, 3&2.
Match #12 – J. Solon & R. Taylor   vs.   M. Seifert & J. Potter.  Solon & Taylor, 6&4.
 
Session Three – Singles
Team Wes needed just three full points out of the remaining twelve to win the Cup back.  They did much more than that.  The Wessers blew away the previous record of 14.5 total points by amassing a jaw dropping 18.5 by day's end.  Sadly for the Dizzers, it could have been worse.  Team Lauren won all three of the matches that made it to the final hole, including Jeff Potter winning the last two holes to wrestle a win away from Dennis Bird in the finale.
Josh Solon had the best performance of Sunday with his stunning 3&2 victory over 2015 and 2016 club champion Joe Hughes.  A 3.5 hole underdog according to vegasinsider.com, Josh played two under par golf to close Joe out on #16.  "He was a man possessed," explained Hughes.
Session Three – Singles
Match #13 – J. Solon   vs.   J. Hughes.  Solon, 3&2.
Match #14 – J. Haberer   vs.   J. Domagal.  Domagal, 1 up.
Match #15 – R. Rothrock   vs.   M. Smith.  Smith, 1 up.
Match #16 – C. Martin   vs.   P. O'Brien.   Martin, 4&2.
Match #17 – B. Adams   vs.  E. Evans.  Adams, 3&2.
Match #18 – R. Taylor  vs.   K. Caldwell.  Taylor, 5&3.
Match #19 – J. Gifford   vs.   L. Natale.  Gifford, 7&6.
Match #20 – R. Artigiani   vs.   B. Krol.  Artigiani, 7&6.
Match #21 – M. Ferdinand   vs.   M. Seifert.  Ferdinand, 4&3.
Match #22 – R. Weis   vs.   T. Cole.  Weis, 3&2.
Match #23 – M. Lloyd  vs.  JR Purrington.  Lloyd, 4&3.
Match #24 – D. Bird   vs.   J. Potter.  Potter, 1 up. 
2016 Individual Records
Team Wes – 18.5 points
Matt Ferdinand   3-0, 3 points
Jeff Gifford   3-0, 3 points
Josh Solon   3-0, 3 points
Ron Weis   3-0, 3 points
Robert Taylor   3-0, 3 points
Charles Martin   2-1, 2 points
Brian Adams   2-1, 2 points
Mark Lloyd   2-1, 2 points
Ron Rothrock   2-1, 2 points
John Haberer   2-1, 2 points
Ron Artigiani   1-1-1, 1.5 points
Dennis Bird   1-1-1, 1.5 points
Team Lauren – 5.5 points
Mike Smith   2-1, 2 points
Ken Caldwell   1-1-1, 1.5 points
Pat O'Brien   1-1-1, 1.5 points
Larry Natale   1-2, 1 point
Jeff Potter   1-2, 1 point
John Domagal   1-2, 1 point
Ed Evans   0-3, 0 points
Tom Cole   0-3, 0 points
Bryan Krol  0-3, 0 points
Joe Hughes   0-3, 0 points
JR Purrington   0-3, 0 points
Mike Seifert   0-3, 0 points
LETTER GRADES – TEAM WES
Captain Wes Cupp: A
I think the team was sick of losing the past three years and took it upon themselves to have a great weekend.  Team knickers, a bowling night, official practice… this year's success was born out of the collective will of the team to be better.  As is often the case, this desire comes from the players, not the coaches.  So I don't think I should get a lot of the credit for this monumental win, but I at least was smart enough to let the grass roots team effort blossom into something great.
Vice Captain Bob Pawlak – A++
Did he not bring two jugs of mudslides for the weekend?  Did he not have Bud Lights as well on the cart?  That is how you get an A++, people.  Pay attention!
Vice Captain Glenn Shaver: A+
Although rumored to sell four cars while on the course Sunday, Glenn Dog Millionaire was a great addition to the Team Wes staff this year.  GDM jumped in with both feet as he adorned the team knickers on Sunday.  Thanks for your help and support, Glenn!
Vice Captain Mike Chlebus: A
Now let's talk about dedication.  Mike offered his services to help out on Saturday as GDM was hawking metal.  The weather was miserable yet he watched A LOT OF GOLF and helped out his son-in-law White Chuck Martin.  Well done, Mike!
Matt Ferdinand: A+
After a couple year hiatus, Fernandez was a sight for sore eyes for Captain Wes.  Matt is a great player and an amazing competitor.  He has absolutely no fear on the course and that confidence is infectious.  I simply love his gamer attitude and hope that this was the start of a long run for Team Wes, not simply a one year cameo.
Josh Solon: A+
I know Giff and Lloyd were quite vocal about their lust for a win this year, but no one wanted it more than Josh.  My man had a heart wrenching finish to last year's Cupp Cup and couldn't wait the 364 days until this year's edition.  To his credit, he started overhauling his swing the day after the Cupp Cup last year and it paid huge dividends.  He played nicely all season, but really peaked this weekend.  His brilliant round on Sunday against the titan, Joe Hughes, was a great achievement.  Josh has his golf swagger back!  Now I just have to work with him on the lanes…
Jeff Gifford: A+
Giff's Cupp Cup fortunes have certainly done a 180 over the past few years.  From 2013 to 2015, Giff had a record seven consecutive losses before winning his singles match last year over Jeff Morat.  Giff had a great 2016, going 3-0 and now creating a WINNING streak of four consecutive matches… and counting.  I think Giff's personal life successes have filtered into his golf game.  His adorable twin girls have undoubtedly given him perspective as his Cupp Cup style has gone from brash to leadership and his golf game has dramatically improved accordingly.  Nice job with the bowling night and knickers, Giff!
Ron Weis: A
Ron is known by most as "the best twelve handicap on the planet that only plays ten rounds per year."  That claim will certainly continue as Ron went 3-0 this week and looks to four-peat with Mark Lloyd in the LT Shootout later this month.
Ron has had a steady diet of John Domagal in the Cupp Cup of late.  The two played each other in all three matches last year and in the first two matches this year.  It sounds like the guy who puts this thing together needs to set down his cocktail and pay a little more attention.  Nonetheless, Ronnie avenged his loss to JDom in last year's singles matches by winning both of their match ups this year.  Ron also took care of business over the slight favorite, Tom Cole, in the singles match on Sunday.  Good shooting, Ron!
Robert Taylor: A
The reports of Tayls' golf game demise were greatly exaggerated.  A former Blue Pooler, Tayls' handicap had slipped from a five to "the worst ten handicap on the planet" accordingly to anonymous sources.  However, Tayls must have found something this week.  A couple of evening practice sessions a few days before the Cupp Cup paid off as he played some brilliant golf this weekend.  Tayls breezed to a perfect 3-0 record and was a serious contender for the MVP award.  Nice playing!
Charles Martin: A
Let's face it, White Chuck Martin's Cupp Cup was going to be defined by his singles match with Pat O'Brien.  After Pat's audacious quote, Chuck had a nickname to play for.  Pat had Chuck a few down on the turn, putting Chuck just a couple of bad holes away from a new nickname, Red Chuck Martin.  Knowing that it would surely stick with all of the assholes around the club, Chuck dug deep and mounted a herculean comeback on Pat.  WHITE Chuck Martin won nearly every hole on the back to not only take the lead in the match but to close it out early, 4&2.
Brian Adams: B
"Not the singer" grabbed two full points this week, highlighted by a win over professional golfer Ed Evans on Sunday.  Brian has a lot of natural ability but I think he could get much more out of his game.  If we can get a couple of lose shots out of his bag and reconstruct his putting mentality, I can see Brian getting down to a scratch handicap if he wanted to put the time in.
Mark Lloyd: B+
No one will question Mark's competitiveness with the Cupp Cup (please see the drink chip that is lodged in the back bar mirror at the club).  Fortunately, Mark channeled his energy in a positive direction and, along with Giff, took leadership of the team going into this Cupp Cup.  Marky grabbed two full points this week despite his captain giving him a lot of heavy lifting in the team matches.  In singles, Mark had the dangerous and undervalued JR Purrington.  Although JR was on tilt for most of the weekend, he can get on a roll and play as well as anyone here.  Mark outlasted JR to take the point and cap off a great couple of Cupp Cup weeks.  Update: Mark's grade was bumped from a B to a B+ as I just heard yesterday that he was the last player to leave the bar on Friday night.  That is a point of pride for the Wessers that shouldn't be overlooked.
Ron Rothrock: B
Ron had a solid rookie campaign going 2-1 this week.  He had a spectacular singles match with Mike Smith but fell victim to the terminator on the final hole.  There is no shame in that.  Mike is nearly unstoppable in singles matches.
John Haberer: B
Habs and his quadruple extra large shirts secured two points for the Wessers.  He and Tayls, the 2015 Member-Member Champions, rekindled their winning ways and won a decisive victory in the opening session best ball match.  Another victory in the alternate shot with Rothchild in the afternoon had Habs set up for a 3-0 sweep on the week.  The scrappy John Domagal had other ideas.  The two battled all the way to number eighteen before JDom edged out Habs, 1 up.  All in all a solid 2016 campaign for my man.  Maybe now he can focus on his 0-5 fantasy football team.
Ron Artigiani: B-
My favorite Arty moment from this week came from Session One.  Team Wes was looking for the session sweep as Arty's match was on the final hole (#9).  With it being the last match on the course, the entire green was surrounded by captains, players, and spectators.  There had to be a gathering of thirty plus as Arty putted a slippery 15 footer that broke three feet.  The putt was perfect and it tumbled into the hole with thunderous applause and an enthusiastic fist pump.  Team Wes had swept the morning matches, right?!  Umm… no.  Arty's putt was for an inconsequential bogey as the hole was won with a three putt par.
Ron has played in eight of the nine Cups and has shaped the "fighting character" of Team Wes along the way.  I hope we can get him back for a few more years, but if not, thanks for the service, Arty!  I hope I can talk you into a vice captain position in the future.
Dennis Bird: B-
Poor Dennis has been working like a dog this year so his golfing opportunities have been few.  He is juggling forty-two jobs at the moment but found time to get his game into shape for the Cupp Cup.  He snuck out early in the morning by himself the days leading up to the event and banged out as many holes as he could before work – speedgolf style.
Dennis scratched out a very reasonable point and a half but has to be stewing over how his singles match ended.  He and Potter had the last match of the day and a huge gallery.  Dennis stiffed one on #16 and won the hole to get to one up with two to play.  Unfortunately, a few balky tee shots on #17 and #18 caused Dennis to lose the last two holes and the match.  Maybe Dennis is just so nice he wanted to give Potter a going away gift knowing that the Cup had long since been secured?
LETTER GRADES – TEAM LAUREN
Captain Lauren Cupp: D
The good news: Her Hamilton College Golf Coach schedule allowed her to make the action this year.  The bad news: Her Hamilton College Golf Coach schedule allowed her to make the action this year.  I'm not sure anyone would want to witness the thrashing her team took this weekend.  Lauren did see the silver lining though, "At least this was a nice break from my regular job."
Vice Captain Jake Smith: A
Jake answered the call again to help Lauren over the weekend.  You simply can't find a nicer guy.  And even after the team's struggles, he stuck around until the bitter end.  Jake for President, 2020!
Vice Captain Whitney Cook: A
Poor Whit qualified for the 2016 Cupp Cup but, because of health reasons and a surgery, couldn't tee it up for the Dizzers.  His health setback didn't slow him down much, however, as he partied hard with the boys on Friday night and has photo evidence that he outlasted ALL players and coaches at Legends.  I didn't see Whitney on a Stick or else I would have happily given Wonderful Whit an A+.
Vice Captain Matt Hughes: B+
Hughesy showed up to lend a hand on Friday night for the Dizzers.  They usually need the help.  And after a few cocktails at Legends he was hired by Lauren to Vice Captain over the weekend.  All reports say that he did a nice job despite his team not producing.  Here's a thought: how about grabbing Tom Peters and suiting up again as a player in 2017?  I know Lauren would gladly welcome the much needed firepower!
Mike Smith: A-
Mike moved up in class for the first time in his nine year Cupp Cup career (only he and Mark Lloyd have played in every Cupp Cup).  That is quite an impressive accomplishment.  Moving back to the blue tees didn't seem to bother "The Terminator" as he put up a team high two full points.  That is saying something as his team only took 5.5 total points.  Rumor has it that Mike took out his hearing aids to combat Rothrock's secret weapon of joke telling on Sunday.  It proved effective as Mikey won 1 up.  Headsy move, Mike!
Ken Caldwell: B+
Kenneth had a respectable week going 1-1-1 for the Dizzers.  His record got healthy playing Arty in both team matches but ran into the Tayls buzz saw in singles.  Ken's game has certainly improved over the past few years.  In fact, he was briefly in the Blue Pool this year as his handicap dipped down to the eight threshold.  He's a good competitor and a solid team member for Lauren.
Pat O'Brien: A-
Pat had a nice rookie campaign in the 9th annual Cupp Cup.  To be honest, if not for Pat, I don't know if the Dizzers even had a pulse over the weekend.  Pat brought some spunk and personality to a team that seemed to come out flat.  He grabbed one and a half points on Saturday and then had the quote of the tournament on Sunday.  After learning of his singles match opponent, Pat boasted, "I'm going to beat White Chuck Martin so badly he will be called Red Chuck Martin from now on."  Although WCM remained WCM and came back to win the match over Pat, I thoroughly enjoyed Pat's bravado.  He got a full letter grade bump just for having some personality!
Larry Natale: B+
Typically more hyper than a two year old with a lollipop, Larry showed a lot of poise this weekend.  He had some mentally challenging groups but yet maintained his composure.  His play had some nice moments early but he seemingly ran out of gas on Sunday.  He still garners a friendly letter grade of B+ to reward him for his patience and team leadership.
Jeff Potter: B+
Our good buddy Jeff has moved to Rhode Island over the summer.  He has been a great member and friend over the years.  He still went out of his way to qualify for the Cupp Cup this year which was not easy.  He made it all worth it as he ended up in the feature match on Sunday afternoon against Dennis Bird.  Although the Cup had long since been clinched, this last match was captivating.  There was a fitting ending as Jeff won the last two holes to take the match, 1 up.  Way to go out with a win, Jeff!
John Domagal: B-
J Dom had a rough Saturday but salvaged the weekend with a thrilling one up victory over John Haberer in singles.  The whispers of J Dom's Cupp Cup retirement are being heard around the club.  I hope he can hang in there for a few more years for Lauren's sake.  J Dom is an absolute grinder and a tough out in singles matches.
Ed Evans: C-
Edible fought through injuries and pain all week but couldn't muster up a point to show for it.  That sadly makes six straight Cupp Cup losses in a row for Ed.  His game seemed to be showing signs of life heading into the weekend but he just couldn't get it going.  Maybe an offseason of Utica Comets hockey and some much needed rest will do wonders for Ed's golf game.  Here's to a healthy 2017!
Tom Cole: C
A new member and Cupp Cup rookie, Tom certainly showed that he has the game to compete.  He didn't have everything come together this week but he showed the membership a fearless swing and attitude.  Dormie with six holes to play on Sunday, Tom kept fighting and won three holes in a row to soil Ron Weis's pants.  I think this year's experience will prove vital for Cupp Cup success in the future for Tom.
Bryan Krol: C-
Bryan made his Cupp Cup debut right in the middle of a swing change.  I know it was frustrating for the big man but he was such a gentleman it was hard not to root for him.  He is a great addition to the membership at RCC and I hope he enjoyed his experience this weekend.  I hope he can get that swing figured out and come back sharp next October.
Joe Hughes: B-
It is tough to give Joe too harsh of a grade.  Although he didn't play at the eye popping level he has been for most the summer, he did fight hard and was a class act as usual.  Additionally, he caught a red hot Josh Solon in singles that gave him a misleading goose egg for the week.  Let's hope he saved up all of his brilliant shots for The Bear in a couple of weeks!
JR Purrington: D
My man Sinbad was on the verge of implosion all weekend.  JR is a great dude but just hasn't been able to keep it on the rails when things go wrong.  What I don't think JR realizes is that EVERYONE feels the same blood boiling frustrations on the course, myself certainly included.  The trick is to train yourself to turn that 212 degree blood into fuel to make you play better.  I can honestly say that since having a child I have a much better perspective of all things, not just with golf, that don't go my way.  My point isn't that JR should try fathering a child over the winter to cure his Cupp Cup woes, but to try to see the big picture when met with short term frustration.
Mike Seifert: C-
The 1992 Rome City Amateur Champion struggled all weekend.  From his first slippery putt on #1 green (that may still be rolling) to his 4&3 loss in singles on Sunday, Mike just wasn't himself on the course.  However, you couldn't tell by his demeanor.  He carried himself professionally and battled to the very end.