Session One – 18 Hole Best Ball
It was a brisk and rainy morning as the fifth annual Cupp Cup began at 8:15 on Saturday, October 5th, 2012.  With thirty-six holes scheduled for the day, the tournament had to proceed in the inclement weather for a shot at finishing on schedule.  Team Lauren was the first to put a point on the board as Kalk and Graziano won the first match with a convincing 4&3 score.
One of the more memorable holes in the morning transpired on the new fourteenth.  This par three provided great theatre throughout the weekend, including in Match Two.  All four of the tee shots struck in this match found the hazard.  Mark Lloyd even took the booties off to play his from inside the yellow line.  Sadly for Mark, his courage was not rewarded by the Golf Gods as he and Bird fell 3&2 to Hughes and Evans.
As the final drops of rain fell on the morning matches, the score was tied at three.  Thankfully, the sun would break out of the clouds for the afternoon session.
Session Two – 18 Hole Alternate Shot
With things knotted up at three, the afternoon matches would set the table for Sunday's singles finish.  Both teams were hoping to get a cushion but that was not the case.  Session Two was split just like the morning with both teams winning three full points.  However, Match #12 could have ended very differently and changed the entire weekend.
The match of Artigiani & Ferdinand versus Kalk & Hughes saw Team Wes in control for most of the match.  As updates poured in throughout the round, Arty and Ferdinand were consistently three to four up.  However, the wheels got a bit wobbly on their final nine (the front side) and they suddenly found themselves teeing off on #9 – a hole neither probably thought they would see that match.  With a one up lead, Arty's tee shot found the stream while Hughes's tee ball was crushed around the corner.  This left Kalk just 170 yards to the green.  Feeling like he needed to make something happen with his opponents in great shape, Ferdinand pulled out driver from the other side of the stream!  His captain cringed and the pond guarding the green ate it up.  The Team Wes duo found themselves dropping from a water hazard for the second time on the hole.  Arty played a nice pitch up to gimme range and Team Wes was in with a bogey six.  All Team Lauren needed was a five to win a crucial half point.
Playing from 170 out, Kalk tugged his second shot left.  This left a delicate chip for Joe to the front left pin.  Maybe it was a bit too aggressive of a line as Joe's chip raced past the pin and off the front right edge of the green.  A lackluster chip by Larry and suddenly Team Lauren needed a nine footer to win the hole and halve the match.  This felt like it was almost guaranteed just minutes before.  He missed.  This crucial full point swing would loom large going into Sunday.

Session Three – 18 Hole Singles Matches
Six to six.  Twelve points up for grabs.  Another great Sunday finish at the Cupp Cup!
A second chilly morning greeted the players and captains on Sunday.  As play began lots of Team Wes flags were flying.  At one point midway through the day, Team Wes was leading in eight matches, two were all square, and behind in only two.  It looked like it might be a Sunday Bloody Sunday for Team Lauren.
Slowly but surely Team Lauren started clawing back.  Joe Hughes dug himself a four hole deficit through twelve holes but fought back to steal a full point from Jeff Gifford on the eighteenth.  Team Lauren had their first big match flip that they so desperately needed.
The second flip Captain Josh was looking for came in Match #21.  This pairing was a battle of two golf  heavyweights.  Mark Lloyd was one up on the sixteenth and already in with a par.  JR Purrington had forty feet from the fringe.  Needing a full point, he drained the long distance putt in front of a rowdy throng of onlookers!  With that one putt, their match was now tied and the possibility of this match flipping to Team Lauren was very plausible.  What felt like an inevitable victory for Team Wes just ten seconds before suddenly was up for grabs!  Captains began frantically recalculating possible score scenarios and Team Wes faces became a touch more strained.  JR went on to calmly birdie #17 and make a great par save on #18 to secure the crucial full point.  Team Lauren was making their move.
And so the stage was set.  Johnny P, with his UHaul already packed for Ohio, found himself four down through nine holes to Larry Natale in the final singles match of the day.  This point didn't seem like a big deal at the turn as Team Wes was in control.  But after Team Lauren's three big match flips on the back nine, Team Wes needed Johnny P to scratch out a half point to secure the cup.
Little by little Johnny P cut into Larry's lead.  JP won the critical fourteenth and sixteenth holes and stepped onto the eighteenth green one down.  With forty plus onlookers, the entire Cupp Cup weekend boiled down to a three foot knee knocker for Johnny P.  If he made the putt for par he would win the hole and get the critical half point.  Could it be a fairy tale ending?  Could Johnny P save the day for Team Wes and put an exclamation mark on his final day at Rome Country Club?
YES!!  Johnny P knocked it in the heart!
Team Wes had won a second straight Cupp Cup on the final putt on the eighteenth green!  We hope Johnny P had a little space left over in Mom's Attic for the MVP trophy!
2012 Session One – Eighteen Hole Best Ball Matches
WES 3 points, LAUREN 3 points
Match #1 – D. French & J. Pollex vs. L. Kalk & E. Graziano.  Kalk & Graziano, 4&3.
Match #2 – M. Lloyd & D. Bird vs. J. Hughes & E. Evans.  Hughes & Evans, 3&2.
Match #3 – J. Haberer & R. Artigiani vs. M. Smith & K. Caldwell.  Haberer & Artigiani, 2&1.
Match #4 – J. Gifford & P. Fitsik vs. J. Domagal & JR Purrington.  Gifford & Fitsik, 3 & 2.
Match #5 – J. Vescio & W. Cacciatori vs. L. Natale & J. Potter.  Vescio & Cacciatori, 4&3.
Match #6 – E. Maya & M. Ferdinand vs. T. Peters & B. Lamay.  Peters & Lamay, 1 up.
2012 Session Two – Eighteen Hole Alternate Shot Matches
WES 3 points, LAUREN 3 points
Match #7 – D. Bird & W. Cacciatori vs. J. Domagal & J. Potter.  Domagal & Potter, 3&2.
Match #8 – J. Gifford & D. French vs. B. Lamay & K. Caldwell.  Gifford & French, 4&3.
Match #9 – M. Lloyd & J. Vescio vs. E. Evans & M. Smith.  Lloyd & Vescio, 1 up.
Match #10 – E. Maya & J. Haberer vs. JR Purrington & L. Natale.  Purrington & Natale, 6&5.
Match #11 – P. Fitsik & J. Pollex vs. T. Peters & E. Graziano.  Peters & Graziano, 2&1.
Match #12 – M. Ferdiand & R. Artigiani vs. J. Hughes & L. Kalk.  Ferdinand & Artigiani, 1 up.
2012 Session Three – Eighteen Hole Singles Matches
WES 6.5 points, LAUREN 5.5 points
Match #13 – J. Gifford vs. J. Hughes.  Hughes, 2 up.
Match #14 – W. Cacciatori vs. L. Kalk.  Cacciatori, 2&1.
Match #15 – E. Maya vs. B. Lamay.  Bird, 3&2.
Match #16 – D. French vs. E. Graziano.  Graziano, 3&2.
Match #17 – D. Bird vs. J. Domagal.  Bird, 3&2.
Match #18 – R. Artigiani vs. J. Potter.  Potter, 4&3.
Match #19 – P. Fitsik vs. E. Evans.  Fitsik, 2&1.
Match #20 – J. Vescio vs. K. Caldwell.  Vescio, 6&5.
Match #21 – M. Lloyd vs. JR Purrington.  Purrington, 1 up.
Match #22 – J. Haberer vs. M. Smith.  Haberer, 3&2.
Match #23 – M. Ferdinand vs. T.M. Peters.  Peters, 1 up.
Match #24 – J. Pollex v. L. Natale.  Halved.
TEAM WES WINS THE 2012 CUPP CUP, 12.5 points to 11.5
2012 Cupp Cup Individual Statistics
TEAM WES – 12.5 points
Joe Vescio   3-0-0, 3 points
Jeff Gifford   2-1-0, 2 points
Pete Fitsik   2-1-0, 2 points
Ron Artigiani   2-1-0, 2 points
John Haberer   2-1-0, 2 points
Wayne Cacciatori   2-1-0, 2 points
Dave French   1-2-0, 1 point
Matt Ferdinand   1-2-0, 1 point
Eric Maya   1-2-0, 1 point
Dennis Bird   1-2-0, 1 point
Mark Lloyd   1-2-0, 1 point
John Pollex   0-2-1, 0.5 point
TEAM LAUREN – 11.5 points
Tom M. Peters   3-0-0, 3 points
Ed Graziano   3-0-0, 3 points
Jeff Potter   2-1-0, 2 points
Joe Hughes   2-1-0, 2 points
JR Purrington   2-1-0, 2 points
Larry Natale   1-1-1, 1.5 points
Brian Lamay   1-2-0, 1 point
John Domagal   1-2-0, 1 point
Ed Evans    1-2-0, 1 point
Larry Kalk   1-2-0, 1 point
Mike Smith   0-3-0, 0 points
Ken Caldwell   0-3-0, 0 points
2012 Individual Letter Grades
MATCH OFFICIAL

  Sammy Pool Bar    A++

If you can drag Don Cieslewitz out to watch the Cupp Cup when it's 48 degrees and raining, you deserve an A.  If you can do this while wearing shorts, you deserve an A+.  If Wes rings up your cell phone bill for $20 worth of unread texts and you don't choke him out for it, you deserve an A++.
TEAM WES

 (graded by Captain Wes)
Assistant Captain Bob Pawlak    A+
Bobby was on his game again this weekend.  We shouldn't be surprised.  From his opening Bud Light on Friday evening to showing me the one big advantage of a transparent clipboard, Bobby held the team together all the way to the final putt.  Thanks Bobby!
Assistant Captain Karl Kotary  A+++
Karl celebrated his 60th birthday this weekend as he made his captain debut in the Cupp Cup.  He earned the first ever A+++ because no one during Cupp Cup weekend has ever 1) removed his heart monitor so its beeping wouldn't distract his players, 2) got involved in a tussle in a seedy Rome bar parking lot.  Karl, talk to your agent because we want a contract extension!
Dennis Bird   B
Dennis, battling a cold this weekend, fought his heart out and grabbed one point for Team Wes.  Like last year, Dennis struggled on Saturday and never really found his rhythm.  He dug deep on Sunday, though, and took down John Domagal 3&2.  Dennis is becoming a bit of a Tiger Woods in this event as his lifetime Saturday record is 0-4 while his singles record is a perfect 2-0.  Here's to a fast start next year for Dennis so he can match his great Sunday efforts.
Mark Lloyd   B
Mark had a misleading 1-2 record this time around in the Cupp Cup.  He played as well as anyone on either team this week.  Unfortunately, his mysterious Cupp Cup woes continued.  He is 2-6-1 in the past three Cupp Cups with a  lifetime record of 5-8-2.  We all know that this not representative of his caliber of play.  A little bad luck and a lot of tough match-ups are the reason for this.  I predict at least 2.5 points out of Mark next year.
Matt Ferdinand  B-
The only rookie on Team Wes, Rome CC's reigning club champion got his hazing in quickly as he was paired with Artigiani on Saturday (sorry about that!).  Matt played reasonably well this weekend, but his course management decision on the final hole in his alternate shot match (driver off of the deck on #9 from 290 out) left heads being scratched.  Luckily, Hughes and Kalk had a short game slash attack that bailed him out.  Look for a budding rivalry in the coming years between Matt and Tom Peters.  They played two matches this year and both went to the final hole.  Matt will be seeking some sweet revenge in 2013.
Pete Fitsik   A-
Fitsy was steady again all weekend.  His methodic and seasoned game is perfect for this pressure packed event.  Pete's two points this weekend vaulted him into a tie for the most career points in Cupp Cup history with Mike Smith and Tom M. Peters (10.5 points).  My draft selection five years ago has paid some nice dividends!
Wayne Cacciatori  A-
Wayne was another two point winner this week for Team Wes.  The natural pairing of Wayne and Joe Vescio went smoothly as they walked to a 4&3 victory over Natale and Potter.  Wayne's solid 2&1 win on Sunday over Larry Kalk made a good weekend great.
Joe Vescio  A
When you go a perfect 3-0 for the weekend and hold the current active win streak record (4) in the Cupp Cup, you deserve an "A."  HIs dismantling of Kenny Caldwell on Sunday (6&5) was a statement win.  I am sure Joe will be a marked man in the 2013 Cupp Cup by Team Lauren.
John Pollex  A
Although the stat sheet shows that John only secured one half point all weekend, it was his valiant comeback with the Cup hanging in the balance on Sunday that earned Johnny P an "A" and the MVP honors.  JP was down four at the turn and clawed his way back with big gallery pressure.  His sweaty palms three footer on eighteen will forever be in the highlight reel of the Cupp Cup.
Ron Artigiani   B+
Arty had a nice weekend for Team Wes with a 2-1 record.  Habs and Arty took down Caldwell and Smith in the Best Ball while Ferdinand and Arty held on to a nail biting one up victory in the Alternate Shot.  Unfortunately, Ronnie couldn't pull off the perfect weekend as Jeff the Potter wore Arty down on Sunday.  Ronnie fought bravely to keep the match within reach as he was just two down going into fourteen.  Sadly, he just couldn't get over the hump and Potter took the match 4&3.
John Haberer   A-
I must admit I was a bit nervous having not seen Habs play much golf over the past month.  Haberererererer did step it up this weekend and secured two strong points.  Although he and Maya laid an egg in the Alternate Shot Session, Habs played his ass off on Sunday and took down Mike "The Terminator" Smith in his singles match.  Back in 2010, Mike Smith whitewashed Habs to the tune of 4&3 on Sunday.  This year's 3&2 revenge tasted almost as sweet as Kit's carrot cake as Haberer won a huge point for Team Wes.
Eric Maya  B-
Another Team Wes member that hadn't seen a lot of golf action at the club in recent weeks, Eric got off to a slow start.  He went 0-2 on Saturday including a 6&5 thumping in the afternoon.  But, just like last year, Maya blitzed his Singles opponent and sent Lamay on a trail of tears on thirteen green.  Eric's 6&5er salvaged the weekend and raised his letter grade tremendously.  Both Eric and Dennis Bird are becoming the Sunday Assassins for Team Wes.
Jeff Gifford   B+
Jeff started hot this weekend.  He cruised to two victories on Saturday and was four up through twelve holes in his singles match against scrappy Joe Hughes on Sunday.  He was just a par or two away from a perfect weekend, and most likely, the MVP honors.  However, he went cold and stumbled home.  As tough as that must have been to experience, Jeff shouldn't overlook the solid golf he played for the majority of the weekend.  Jeff is becoming a leader of Team Wes.
David French   C
Frenchy hadn't played a whole lot of golf this season so I wasn't sure what to expect.  His game, and his enthusiasm, seemed a bit subdued as he played to a 1-2 record.  His highlight of the weekend came in the afternoon on Saturday as he teamed up with fellow sparkplug Jeff Gifford for a 4&3 beat down of Lamay and Caldwell.  Let's hope Frenchy gets his mojo back in 2013.
TEAM LAUREN

 (graded by Captain Josh)
Assistant Captain Jake Smith  A+
Jake provided donuts, high test booze, and some much needed comic relief for Team Lauren.  He was on top of his game again this year but what boosted him to an A+ was his keen observation that Mike Smith had his V neck sweater on backwards (see below).  Now that is a captain who sees all!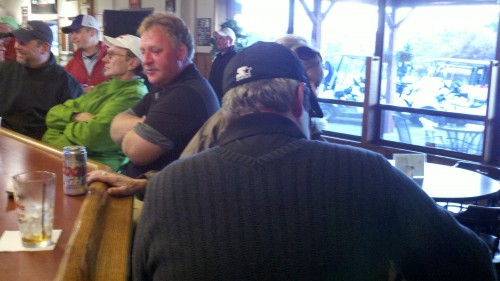 Assistant Captain Dave Fay   A
It was great to see Dave out on the course this weekend.  His enthusiasm, golf IQ, and beer fetching were a great help for Team Lauren.  I can't help but wonder what the final tally would have been if Dave had actually teed it up.  However it shakes out next year, we all love Dave and his presence makes the Cupp Cup that much more special.
Jeff Potter   B+
After Wayne and Joe sliced some bacon off Jeff's back on Saturday morning, Potter quickly got both hands back on the wheel and pounded the competition with a consistent brand of play that has alluded him in his long Cupp Cup career.  Jeff's spray chart off the tee has shrunk and likely so will too his handicap.  I'm excited for Jeff and his golf game moving forward.
Larry Kalk   C
After helping earn the first point of the competition, the wheels soon wobbled for Larry.  I take responsibility for some of the wreckage as the chemistry was just not there with Joe in the alternate shot.  Mr. Kalk's calling card has been his consistency off the tee and all around in his career at RCC. That steadiness left him a touch in this edition of the Cupp Cup, but he will be back.
Ed Graziano   A+
Graz simply played steady golf all weekend.  Ed pulled a Rory McIllroy on Sunday morning, and showed moments before his tee time.  With a warm up routine that consisted of burning a dart and inhaling half a Boston Crème donut, Ed dispatched Dave French without breaking a significant sweat.  Graz really has what it takes to be an asset in this competition.  He just doesn't seem to show that he is affected by nerves, and will likely be tested for beta blockers before the 2013 edition of the Cupp Cup.
Mike Smith   C
I could care less about the 0-3 record.  I like Mike too much to give him a lower grade.  He's a total gentleman and cares…two important items.  John Haberer was Mike's nemesis this past weekend.  Habs improved short game has him skyrocketing toward Pool A.  From this captain's perspective, it was mid-range and short putting inconsistency that cost Mike a few points.  I have a feeling the Terminator will regain his form when he learns to trust his stroke again and keep his head still.
Ken Caldwell   C-
I have to say, I felt good about KC on Friday night.  I liked what I heard out of his mouth.  He seemed confident and in good spirits.  I simply believe Kenny thinks too much.  He has too much game to be coughing up three points.  I not so secretly adore Kenny and know he cares a shit ton.  The Sunday trunk slam indicates he cares as I know he enjoys his Labatt Blues with the boys.  However, Mr. Caldwell should know that had Johnny P not made a gutsy par on 18 on Sunday, his early departure could have cost Team Lauren a forfeit in a playoff.  The former CC MVP will be back. Can't wait!!!
Tom Peters   A+
If a letter preceded A in the alphabet, Tom would have earned it. He outlasted club champ, Matt Ferdinand, twice in as many attempts. In his other match he dismissed the Gambler. I personally have thought a lot of Tom's game for some time and would love to see these results translate into some confidence gained. There are multiple city championships and scores more club championships down the road…but only when Tom realizes he's twice as good as he thinks he is.
Joe Hughes   B+
A Cupp Cup rookie, Joe wrestled a couple points away from such CC legends as Mark Lloyd and Jeff Gifford.  Joe's highlight came late in the afternoon on Sunday as he turned a four down deficit into a 2 up win.  Joe shut Giff up for about an hour and fourteen minutes on the back nine, but Giff was back on form for JP's big putt on 18.  Joe has about as much raw talent as I have ever seen.  A little more seasoning and time spent picking the brains of Lloyd, Peters, Fay, Evans and Wesser, and Joe could be a factor in the four majors of Rome, NY for years to come.
Ed Evans   B-
According to the GHIN computer, Ed was the underdog in all three of his matches.  Even though a team match, taking a point from Mark Lloyd will always garner you a higher grade.  Lloyd promptly paid Eddie back hours later. Eddie, a 50 year old in an 85 year old giant dwarf's body, overcame a severely bad back on Sunday morning to give Fitsy all he could handle before succumbing 2 and 1.
Brian Lamay  C-
Brian must have pissed Eric Maya off when he edged him in session one.  The result was a 6&5 ass handing in singles on Sunday.  Mr. Lamay will learn from this Cupp Cup experience as he seemed nervous at times.  However, his captain saw loads of game in there and thinks that with a little time and experience Brian will be a top of the line A Pooler. If everything breaks right, I smell a Maya rematch in 2013. It might be Maya that pleads for a nine hole cart rain check next time.
JR Purrington   B+
There are a handful of players on both sides of this competition that keep the heart of the Cupp Cup beating strong. JR is one of them.  He is a great player, a model teammate and a person that others want to be around. Simply put, if I were Lauren, I wouldn't trade JR for Rory McIllroy, Ian Poulter and a $1000 gift certificate to Express (remember, that is from Lauren's perspective, I'd prefer a gift certificate to Hair Castle/Caribbean Connection).  Flat out, JR gives a shit, and I love it.  JR, remember than putt on #16 forever.  Let it remind you how good of a putter you have become.
John Domagal   B-
John was extremely fun to captain. His 1-2 record is hardly relevant in issuing my letter grade. Watching him practice Friday afternoon while I was marking the course with Wes reminded me just how much this event means to its participants. The wet and cold made the course play extremely long, and that added greatly to the degree of difficulty for JD. I enjoyed John's honesty when he told me how nervous he was on the greens.  It really added a human element to the event above and beyond the shit talking and hooting and hollering.
Larry Natale   B+
Larry is learning.  Larry is learning golf.  Larry is learning how to deal with the ebbs and flows of a match.  I dare you to find a human that hits it further than Mr. Natale.  He is learning how to take advantage of this gift when the light is green, and he knows now to reach in for a different club when the light is yellow.  His tee ball Sunday afternoon on #18 was a thing of beauty…an iron.  His wedge to the green was inexperience, and given that stage/opportunity again, I wouldn't dream of betting against Larry.  Larry also gives a shit, and that's fun to watch.