Session One – 18 Hole Best Ball
After yet another rowdy Friday evening to kick off the Cupp Cup, players and captains got down to business at 8:15 Saturday morning.  Team Lauren sent out the Kalk/Natale combo against the Team Wes staples of Bird and Artigiani.  Kalk and Natale got Team Lauren off to a fast start and took the full point with a 3&2 victory.
In Match #3, Team Wes members Pete Fitsik and Ronnie Weis were one up on seventeen green.  However, neither Ronnie nor the usually sure handed Fitsik could muster an up and down from the fringe and let Smith and Caldwell back into the match.  A halved eighteenth hole gave both teams one half point.  However, it is safe to say that the pulled pork and sloppy Joe's tasted a little better to Smith and Caldwell heading into the afternoon action.
The final match of the morning slate found Team Wes up early.  But, a birdie barrage on the back nine by the law firm of Hughes and Hughes brought the match back to even with a handful of holes remaining.  Then, Joe Hughes dropped a twenty foot birdie on fourteen and then stuffed it to kick-in range on fifteen to swing the match in Team Lauren's favor for good.  Matt and Joe's back nine best ball was the best team golf that was played over the entire weekend.  If Matt finds himself a Roman next fall, Lauren would be crazy not to put this team back together in 2014.
Session Two – 18 Hole Alternate Shot
This is where the 2013 Cup was decided.  Team Lauren bashed Team Wes 4.5 points to 1.5 points in the afternoon session.  Better captaining?  A tougher squad that could handle the riggers of 36 holes?  Maybe to both.
Team Lauren trotted out her tried and true pairing of Natale/Purrington for the first match of the afternoon.  The boys did not disappoint their captain and cruised to a 2&1 victory over Wes's youthful pairing of Gifford and Weis.  On a similar note, Wes returned the favor and went to the well with his classic Cacciatori/Vescio team in the second match.  Again, the proven team put up another "W."  Unfortunately for Team Wes, this would be their only full point of the afternoon.
The talk of Session Two, however, was certainly Match #10.  After a loss in the morning session, Paul Katchmar's streak of winless matches had unbelievably reached double digits.   Team Katch and Kalk got off to a quick start and won the first hole from Bird/Maya.  They would never look back as they poured it on and posted a 7&6 victory.  The streak was finally over!  Nice job, Katch!
Session Three – 18 Hole Singles Matches
Team Lauren had a significant 8-4 lead through the first two sessions.  Thus, Team Lauren needed just 4.5 points out of the twelve available to win back the Cup.  She and Assistant Captain Jake Smith sent out Larry Natale and Robert Taylor in the first two matches with the hopes to dwindle this magic number down to 2.5.  They succeeded.  Natale completed a perfect weekend with a 5&4 win against rookie Ronnie Weis in the first match of the morning while Tayls made a 22 foot birdie putt on #17 to close out Wayne-O 2&1.
Team Wes would need to get 8.5 points out of the last ten to pull off the amazing comeback.  Although highly unlikely, for a few moments on Sunday afternoon, it looked possible.  In the next eight matches, Team Wes won or tied seven of the eight and was tied in the only loss (Peters v. Gifford) through fourteen holes.  Sadly for Team Wes, Peters went birdie, birdie on #15 and #16 to send Giff to the showers on #17 green.
In the final match couplet of the afternoon, Team Lauren's Matt Hughes and John Domagal completed their 3-0 weeks with 4&3 wins over Lloyd and Bird.  It was time to celebrate for Team Lauren!
2013 Session One – Eighteen Hole Best Ball Matches
LAUREN 3.5 points        WES 2.5 points
Match #1 – D. Bird & R. Artigiani vs. L. Kalk & L. Natale.  Kalk & Natale, 3&2.
Match #2 – M. Lloyd & W. Cacciatori vs. JR Purrington & P. Katchmar.  Lloyd & Cacciatori, 5&4.
Match #3 – P. Fitsik & R. Weis vs. M. Smith & K. Caldwell.  Halved.
Match #4 – J. Gifford & J. Solon vs. T.M. Peters & R. Taylor.  Gifford & Solon, 5&4.
Match #5 – J. Vescio & B. Darois vs. J. Domagal & J. Potter.  Domagal & Potter, 4&3.
Match #6 – E. Maya & M. Ferdinand vs. J. Hughes & M. Hughes.  Hughes & Hughes, 2 up.
2013 Session Two – Eighteen Hole Alternate Shot Matches
LAUREN 4.5 points        WES 1.5 points
Match #7 – JR Purrington & L. Natale vs. J. Gifford & R. Weis.  Purrington & Natale, 2&1.
Match #8 – J. Hughes & M. Smith vs. W. Cacciatori & J. Vescio.  Cacciatori & Vescio, 1 up.
Match #9 – R. Taylor & J. Potter vs. M. Lloyd & P. Fitsik.  Halved.
Match #10 – P. Katchmar & L. Kalk vs. E. Maya & D. Bird.  Katchmar & Kalk, 7&6.
Match #11 – M. Hughes & K. Caldwell vs. J. Solon & R. Artigiani.  Hughes & Caldwell, 1 up.
Match #12 – T.M. Peters & J. Domagal vs. M. Ferdinand & B. Darois.  Peters & Domagal, 7&5.
2013 Session Three – Eighteen Hole Singles Matches
LAUREN 6 points        WES 6 points
Match #13 – R. Taylor vs. W. Cacciatori.  Taylor, 2&1.
Match #14 – L. Natale vs. R. Weis.  Natale, 5&4.
Match #15 – P. Katchmar vs. E. Maya.  Maya, 4&3.
Match #16 – M. Smith vs. P. Fitsik.  Halved.
Match #17 – JR Purrington vs. J. Solon.  Solon, 2&1.
Match #18 – J. Potter vs. B. Darois. Darois, 2&1.
Match #19 – T.M. Peters vs. J. Gifford.  Peters, 2&1.
Match #20 – L. Kalk vs. R. Artigiani.  Artigiani, 1 up.
Match #21 – J. Hughes vs. M. Ferdinand.  Halved.
Match #22 – K. Caldwell vs. J. Vescio.  Vescio, 3&2.
Match #23 -M. Hughes vs. M. Lloyd.  Hughes, 4&3.
Match #24 – J. Domagal vs. D. Bird.  Domagal, 4&3.
TEAM LAUREN WINS THE 2013 CUPP CUP, 14 points to 10
2013 Cupp Cup Individual Records
TEAM LAUREN

– 14 points

John Domagal   3-0-0, 3 points

Matt Hughes   3-0-0, 3 points

Larry Natale   3-0-0, 3 points

Larry Kalk   2-1-0, 2 points

T.M. Peters   2-1-0, 2 points

Robert Taylor   1-1-1, 1.5 points

Joe Hughes   1-1-1, 1.5 points

Ken Caldwell   1-1-1, 1.5 points

Jeff Potter   1-1-1, 1.5 points

JR Purrington  1-2, 1 point

Mike Smith   0-1-2, 1 point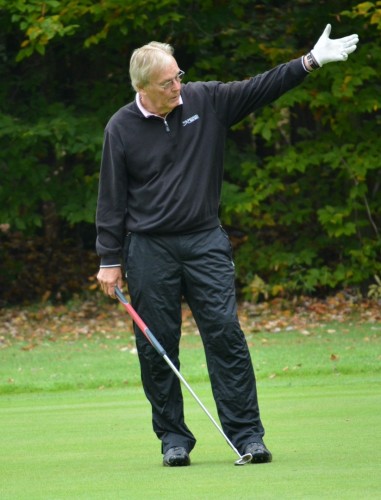 Paul Katchmar    1-2-0, 1 point
TEAM WES

 – 10 points

Wayne Cacciatori   2-1-0, 2 points

Josh Solon   2-1-0, 2 points

Joe Vescio   2-1-0, 2 points

Pete Fitsik   0-0-3, 1.5 points

Mark Lloyd   1-1-1, 1.5 points

Brad Darois   1-2-0, 1 point

Jeff Gifford   1-2-0, 1 point

Ron Artigiani   1-2-0, 1 point

Eric Maya   1-2-0, 1 point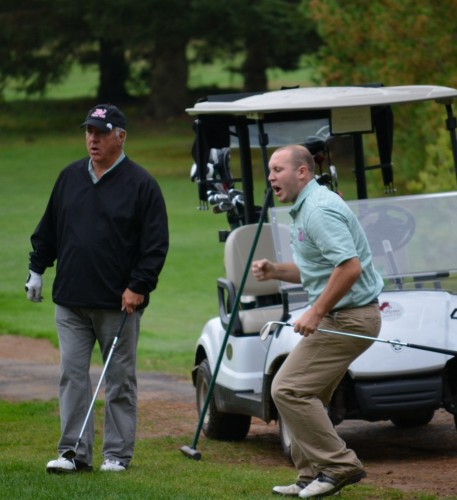 Ronnie Weis   0-2-1, 0.5 point
Matt Ferdinand   0-2-1, 0.5 point
Dennis Bird   0-3-0, 0 points
Do you think any of these four shots went in?
2013 Individual Letter Grades
TEAM LAUREN
Captain Lauren Cupp   A
Win 14-10 and you had to push most of the right buttons for the team as the captain.  Although Hamilton College golf dragged her away from more of the Cupp Cup action than she would have liked, there is no debating the boys on Team Lauren love playing for her.  This Cupp Cup felt like a "must win" for Lauren and the team delivered.
Assistant Captain Jake Smith  A+++
Jake could be the nicest guy on the planet and is a great asset for Team Lauren.  He did a great job in the women's locker room with the singles match-ups as the lone Lauren representative.  We appreciate his commitment to the Cupp Cup and would love to see him play in some additional club events next year so he can qualify for the fall classic.  What do you say, Jake?
Assistant Captain Josh Cupp   A+
Although life has taken him up the road to Saratoga, the Cupp Cup means a lot to Josh.  Just being able to sneak away from the fam and business for a day and a night shows his love for this weekend.  It was great to have him on the fairways again.  I think his presence and dedication inspired the troops Saturday afternoon.
John Domagal  A+
Wow!  Well done, J Dom!  Normally a stoic character, it was great to see John beaming from ear to ear during the champagne celebration on #18 tee.  Who wouldn't be smiling?  He played great golf all weekend – especia
lly against Dennis Bird on Sunday.  I think John went into the Cupp Cup wondering if he could hold up for three rounds in two days.  Answer: HELL YEAH!
Matt Hughes  A+
What else can you ask of a rookie?  Matt talked the talk and walked the walk.  His 3-0 performance along with his first club championship Labor Day weekend has Hughesy on top of the RCC power rankings right now.  The big question is if it is a "one and done" for Hughesy and the Cupp Cup.  Rumors of Las Vegas are everywhere…
Larry Natale  A+
Larry saw first hand how intense the Cupp Cup was in his rookie season last year.  Johnny P's famous half point was against him in the singles.  Much to Larry's credit, he gathered speed from the disappointing ending and laid a beat down on Team Wes in his sophomore season.  He won three big points and has emerged as a leader for Lauren.
Larry Kalk   A-
Kalker was fighting Father Time leading up to the Cupp Cup with back issues to the point where he didn't know if he could even play.  But, Larry manned up and won both of his matches on Saturday by margins of 3&2 and 7&6.  Shaking hands on #12 green must certainly make the back feel much better.  He got off to a sluggish start against Arty on Sunday but fought back from four down on the inward nine to nearly even when the Cup was clinched.  Lauren is thankful that Larry gutted it out as his two points were very important.
T.M. Peters   B
Tom grabbed another two full points to vault him into the all-time career points lead.  However, his 2-1 record might be a bit misleading as Tom didn't quite play up to his caliber this weekend.  A struggling Tom and partner Tayls got roughed up in the morning best ball match on Saturday.  On Sunday, Tom was standing on #15 tee all square with the heavy underdog Giff in the singles (the line was 3.5 holes).  But, to Tom's credit, clutch back to back birdies on #15 and #16 saved him from a weekend disaster and having to hear Giff chirp for the next twenty years.
Robert Taylor   B
Tayls stumbled out of the gate with a lopsided loss in the best ball.  But, Tayls rebounded nicely in the afternoon and led his underdog team to a half point against heavy favorites Lloyd and Fitsik (Vegas had this line at 3.5 holes).  On Sunday Tayls won an absolutely critical point against Team Wes bulldog Wayne Cacciatori with a sizzling birdie on #17.  If Tayls doesn't win this match, who knows if the momentum swing would have changed the outcome of the entire Cupp Cup.
Joe Hughes   B+
Joe played nicely over his three matches.  His string of clutch birdies with fellow Hughes in the best ball turned a lot of heads.  In addition, his epic Sunday match with Ferdinand was gutty and full of clutch putting.  Watch out for Joe in future club championships and Cupp Cups now that his putter is evolving from a liability into an asset.
Ken Caldwell  B-
2012 left a bitter taste in Ken's mouth.  Much to his credit, Kenny worked on his game and had a much better performance in this year's Cupp Cup.  Kenny grabbed a point and a half, a big improvement over his 0-3 record in 2012.  Give Captain Lauren credit for having faith in Kenny and choosing him as a captain's pick.
Jeff Potter  C+
Everything was going along swimmingly for Jeff through his first two and a half matches.  After a win and a tie on Saturday, Potter was up the entire front nine against Brad Darois on Sunday.  However, the battle of the Boston fans turned around quickly as Darois stormed back to take the match 2&1.  We can't be too tough on Jeff, though, as this was not due to his play but to Brad catching fire.
JR Purrington  C-
JR was another gimpy contestant in this year's Cupp Cup.  Troubled by a pesky sciatic nerve, JR had to gut out the three rounds over the weekend.  This was especially frustrating for Team Lauren after JR's rise to prominence in 2012's Cupp Cup.  We did see some moments of golfing brilliance out of JR, but mostly we saw grimaces and limping.  Let's hope JR can get that thing taken care of and get back to 100%.
Mike Smith   B
Mike "Shag Bag" Smith has struggled putting up points in his last two Cupp Cups.  Once dubbed "The Terminator" because of his great success in the early years of the event, Mike has secured just one point in his last six matches.  It isn't because of a lack of effort.  Mike was seen working on his putting during the second rain delay on Sunday in the driving rain. Most thought he was crazy.  I thought it was awesome. Mike wasn't that far off from a good weekend, either.  Heck, if not for a poorly placed parking lot in his singles match with Fitsy, Mike would have gone 1-1-1.  Mike's dedication is what boosted his grade up a letter.
Paul Katchmar   C+
He got his win!  The golf gods finally threw Paul a bone as he and partner Larry Kalk dismantled Maya and Bird 7&6.  Sadly for Paul, Maya got his revenge the next day in singles as he dismissed Paul 4&3.  This was not only a rematch from the previous day's upset but the two played each other in singles two years ago with the same result.  Paul really wanted to play well this weekend and you could feel his intensity with each shot.  I love this about him and his classy competitiveness is exactly what the Cupp Cup should stand for.
TEAM WES
Captain Wes Cupp   D
Whenever you lose the Cupp Cup convincingly, your grade can't be too spectacular.  Wes just couldn't get the boys in sync on Saturday.  His classic pairings did the job, but Wes didn't find a new combination that worked.  Trailing by 8-4 after day one is an epic failure for the captain.  Expect new pairings in 2014 as he looks to get some team mojo back.
Assistant Captain Bob Pawlak   A+++
Bob was once again an amazing captain for Team Wes.  From the Friday night slideshow, to the traditional mudslides and, my personal favorite, test tubes of purple booze, Bobby had a great weekend.  I am greatly appreciative of Bob's efforts and support of the Cupp Cup.  Thanks Bobby!
Assistant Captain John Haberer   A++
Habs' first go around as assistant captain was well done.  He kept a full cooler of cocktails on his cart, built genitalia out of mushrooms and a pinecone on the course, and supplied various meats for the event (pulled pork, beef jerky, etc.).  He is definitely a man's captain.  If he was so great why did Bobby get three pluses and Habs only two?  Because Habs should be playing, not captaining!  Get your ass back for 2014!  We need you to fight off the evil that is Team Lauren!
Assistant Captain Karl Kotary    A+ Friday Night / C Saturday & Sunday
Karl partied with the best of them Friday night and earned every bit of his A+.  So much so, however, that he had a two day hangover.  His random disappearance on both Saturday and Sunday for presumed naps or electric cigarette battery charging left something to be desired.
Wayne Cacciatori   A-
Wanye-O is so solid for this team.  Always upbeat and such the competitor, I wish I could clone him.  He was the only bright spot on Saturday for Team Wes as he posted a 2-0 day when the team could only come up with four total points.  His singles match with Tayls on Sunday was doable but he couldn't get anything going on the back side.  Who knows, if Tayls doesn't roll in the match ending birdie putt on #17, Wayne could have willed a half point out of it had they played the final hole.
Josh Solon   B+
Josh performed solidly in his Cupp Cup debut.  He earned two points and took his only loss in the crap shoot that is Alternate Shot.  But, hey, he had Arty so we can't be too tough on him!  Josh has assimilated nicely into Team Wes and will undoubtedly emerge into a leader of the squad in the near future.
Joe Vescio   A-
Joe has earned six points in his last seven matches in the Cupp Cup dating back to 2011.  That is impressive!  He and Wayne are seemingly unstoppable as teammates, earning the "Voltron" team nickname.  He won his singles match this year against streaky Kenny Caldwell to give Team Wes half a chance for the comeback.  Nice playing, Joe!
Pete Fitsik   B
Poor Fitsy was sidelined for much of the second half of the season with a bad hip.   He rehabbed in late September with the goal of being in fighting shape for the Cupp Cup.  His dedication is undeniable.  Pete scratched and clawed his way to three halved matches as he, of course, played the 54 hole maximum.  Although his short game sharpness wasn't quite where it usually is this weekend, his heart more than made up for it.
Mark Lloyd   B
Mark played well on Saturday earning 1.5 points but ran into a tough match-up in singles.  Mark has mysteriously lost his last five singles matches.  His only career win on Sunday was way back in the inaugural Cupp Cup in 2008 against Ross Maracchion.  Much of this streak is due to his tough opponents rather than Mark's play.  This being said, Mark is going to have to take down a titan if he wants to get an "A" letter grade.
Brad Darois   C+
After Saturday's action, it looked to many that the Cupp Cup stage might be a little too much for Mr. Darois.  What a difference a day makes.  Brad shut the critics up on Sunday with his clutch back nine performance against match favorite Jeff Potter  (Vegasinsider.com had Potter a 4.5 hole favorite).  Highlighted by his near ace on #16, Brad won his singles match 2&1 and almost sparked a Team Wes comeback.  Well done, Brad!
Jeff Gifford   B-
Giff is a great leader for Team Wes and adds an extra level of excitement to the Cupp Cup.  He is playing some of the best golf of his career right now.  Although he and rookie Ronnie Weis stumbled in the alternate shot, Giff gave Tom M. Peters all he could handle in singles.  Just a few years ago the thought of Giff competing at this high of a level would have been wishful thinking.  Let's hope Giff sticks around to represent Team Wes in years to come and doesn't flake to the lake.
Ron Artigiani   D+
Arty was a great help Friday night and is a great supporter of the Cupp Cup.  Unfortunately, he never got his golf mojo going this week.  He had two team losses on Saturday and couldn't finish off his singles match on Sunday.  A charging Larry Kalk was threatening to pull even with him on #17 when Arty was saved by the popping of the corks.
Eric Maya  C
Eric is the guy no one wants to play in singles.  He has won four of his last five on Sunday.  This time around he gave Katchmar his walking papers on #15 green.  If Eric could only get off to a good start on Saturday.  Captain Wes needs to find someone Eric can gel with to get the points rolling in team play.
Ronnie Weis   C
Tee to green Ronnie can ball with anyone in the entire field.  His short game is what held him back this weekend.  Although he didn't secure the points he wanted to, the experience will surely help going into 2014.  Ronnie is a great athlete and just needs more competitive golf seasoning to get to the next level.  His captain is very excited about Ronnie's future.
Matt Ferdinand   C+
There is no debate that Matt is one of the best golfers at Rome Country Club.  He hasn't quite got it going during Cupp Cup time though as he has only managed to earn 1.5 points over his two year career.  Captain Wes takes some of the blame as Matt has been made to do the heavy lifting in his alternate shot pairings.  Matt should take these pairings as a compliment and rise up to the challenge.  His singles match on Sunday with good buddy Joe Hughes was gripping.  Too bad it was too late for Team Wes.  Finally, I would have given him a B- but the out of uniform black pants to Friday's social bumped him down to a C+.
Dennis Bird   D+
We all love Dennis so it is tough to give him a rough grade.  Although he put up the goose egg this week, let it be known he had a steady diet of MVPs in his way this year.  He played reasonably well on Sunday, but ran into the buzzsaw named John Domagal who played great golf all weekend long.  Asked Sunday night about what letter grade he should receive, Dennis responded with "Incomplete.  I never showed up."  His captain enjoys this tough love spirit and hopes he can turn that energy into wins in 2014.